Politicon took place June 25 and 26 at the Pasadena (Calif.) Convention Center. What is Politicon, you ask? Vanity Fair described it best as "a Comic-Con style event for political aficionados," while the Huffington Post called it "the Coachella of politics." Like Comic-Con, the event had panels, vendors, artwork, cosplay, and plenty of passionate attendees. The panels covered a smorgasbord of topics, the crowd was lively, and the experience was ridiculously fun.
A Politicon highlight was an exchange between Sarah Palin, James Carville, and a 10-year-old boy, which you can read about here. Beyond this, I offer eight reflections from the event:
1. Is Donald Trump a psychopath? Probably not, but he displays many narcissistic personality disorder traits according to a panel featuring speakers such as clinical psychologist Ben Michaelis and The Daily Show cocreator Lizz Winstead. Michaelis also explained the concept of authoritarianism as it applies to Trump supporters, stating that when a voting block feels threatened, voters look to a strong individual to lead them. Michaelis said Trump supporters generally have an authoritarian personality type, and it is the single biggest predictor of those who back Trump. The psychologist also discussed how those on the left politically tend to value traits such as empathy and equality, while those on the right value purity, loyalty and respect.
2. Comparing Trump to Jack Kerouac. In a panel titled "Art of Campaign Strategy," Los Angeles Times correspondent Ron Brownstein humorously compared Barack Obama's deliberate, strategic communication style with Trump's wild, loose cannon Twitter posts, drawing references to Jack Kerouac and Allen Ginsberg. Former Obama speechwriter Jon E. Favreau noted Hillary Clinton's organization success during this election cycle, a far cry from the problems she experienced in 2008. However, it is hard for her to have her vision covered with Trump dominating the news. "When Donald Trump comes on the ratings spike," Fox News national security analyst K.T. McFarland added, before proceeding to make the analogy that Trump is connecting personally with citizens through Twitter the same way Franklin Delano Roosevelt did so successfully through radio and Ronald Reagan through television.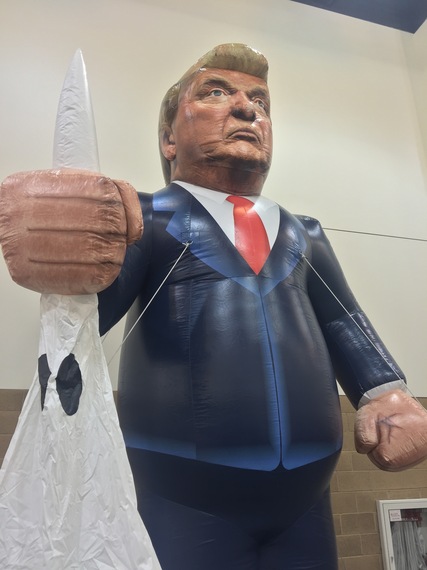 3. "No one disagrees; we're going to Mars." That is what former NASA Deputy Administrator Lori Garver said during a panel titled "How We'll Get to Mars." Bill Adkins, a space policy and politics consultant, discussed funding as a primary driver for Mars travel and Congress' crucial role. The one and only Bill Nye the Science Guy highlighted how the concept of space travel is bringing people together. For example, Rep. Adam Schiff (D-Calif.) and Rep. John Culberson (R-Tex.) disagree on virtually everything, yet they are allies in an effort to travel to Europa, an icy moon orbiting Jupiter thought to have a global ocean of water. Nye said that if there were evidence of life on Mars or Europa, it would change the world. He stressed that space exploration brings out the best in us because it is inherently optimistic, as humankind seeks to answer questions such as where did we come from, what is the origin of living things, and are we alone?
4. Barbara Boxer on gender equality in the Senate. Discussing her new book, The Art of Tough, outgoing U.S. Sen. Barbara Boxer (D-Calif.) gave a retrospective of her long career as a public servant. Boxer said there is total equality in Senate, sharing that the seniority system has helped make it a strong workplace for women, something that is not true in many other fields. The senator also talked about rough campaigns she has battled, from her 1992 election to the Senate to Carly Fiorina's viciousness in 2010. She feels as if California's top-two primary system is ridiculous, opining that one either believes in parties or they do not.
5. Ann Coulter vs. Van Jones. This was the debate I looked forward to most and the two did not disappoint. Coulter stressed how both parties are serving the rich and ignoring the voters; how Brexit, which she believes is a response to immigration, will help Trump; and how Trump is the only candidate who will do anything about the drug war because he will build a wall. Jones referenced how 90-92% of African Americans have to vote Democratic for a Democrat to win, and a disciplined Republican candidate could take advantage of this, though Trump is not that candidate; cited Barack Obama's high deportation statistics; and shared how the Clinton Foundation has done incredible good in the world.
6. Glenn Beck believes "the sickness is not with guns; it's with our souls." The conservative pundit explained that Teddy Roosevelt wanted to build rifle ranges in schools, and the U.S. had far more guns per capita until the 1920s than it does today. He analogized that if his son had a strange fascination with fire, he would not sue the match company. Beck called NRA members some of the most responsible individuals who want the harshest sentences for gun violators. He added that every indication is that Trump is a progressive who is not married to the constitution, as his record shows the opposite of what he is saying today; and legislators should vote on Merrick Garland because he may be the best candidate the Senate has to choose from for a while.
7. The Republican Convention will highlight the party's lack of unity, while the Democratic Convention will be like a Super Bowl party. Paul Begala, James Carville, S.E. Cupp, Van Jones, Michael Murphy, and Larry Wilmore participated in a lively discussion titled "Deconstructing '16." Cupp shared that Trump benefited from having so many competitors campaigning against him and it was foolish to have him sign the GOP loyalty pledge. Jones disagreed that the Democratic Convention would be a celebratory jamboree, as 45% of delegates support Bernie Sanders. He predicted some turmoil at the convention, but not as significant as the Republican convention. During Wilmore's "Keep it 100" segment, every panelist predicted a Hillary Clinton victory in November.
8. Political trading cards are cool. I have had an affinity for trading cards since I collected Upper Deck, Topps, Fleer, and Kayo cards as a kid. At the Democracy Village, the Decision 2016 Political Trading Cards were featured. An autographed Trump card recent sold for $660 on eBay and an autographed Hillary Clinton card $510. "Politicians now have passionate fans just like athletes do and with Trump in the race, politics has really become a spectator sport like never before so political trading cards seemed like a natural extension of my core business," said Brian Wallos, owner of the trading card company. "Political junkies want quality collectibles and what's more American than politics and baseball cards? Decision 2016 Trading Cards capture the highlights, historic moments, and all the candidates and influencers in this presidential campaign. I'm a political junkie myself so I've had a blast."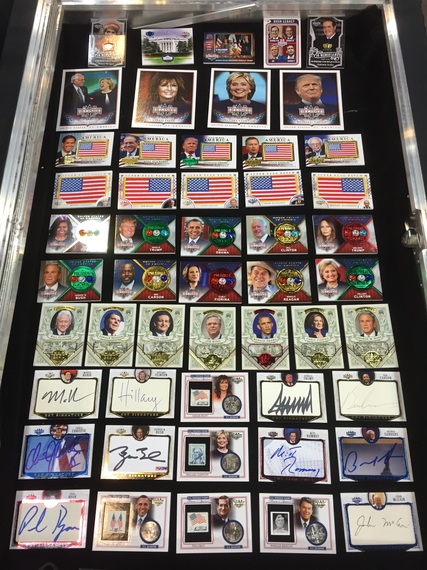 The event had its gaps. Most noteworthy was its inability to capitalize on an opportunity to cover state and local politics. California has the sixth largest economy in the world, while Los Angeles County is home to the City of Bell scandal and dysfunction in the sheriff's department. Local government has the most direct impact on citizens' lives, thus organizers should have dedicated at least a small number of panels to such issues.
What impressed me most about the panels I attended was the environment in which panelists could debate vigorously without the threat of being shouted over or prevented from speaking by disagreeing audience members. This is a far cry from some of the recent chaos that has ensued on U.S. college campuses. During the Coulter-Jones debate, Jones supporters outnumbered Coulter supporters significantly, yet the audience was civil, even when Coulter made her typical statements about immigrant and minority groups. Questions from audience members—who represented all sides of politics—during question-and-answer sessions were often thoughtful and well considered.
Here is to many more years of Politicon.